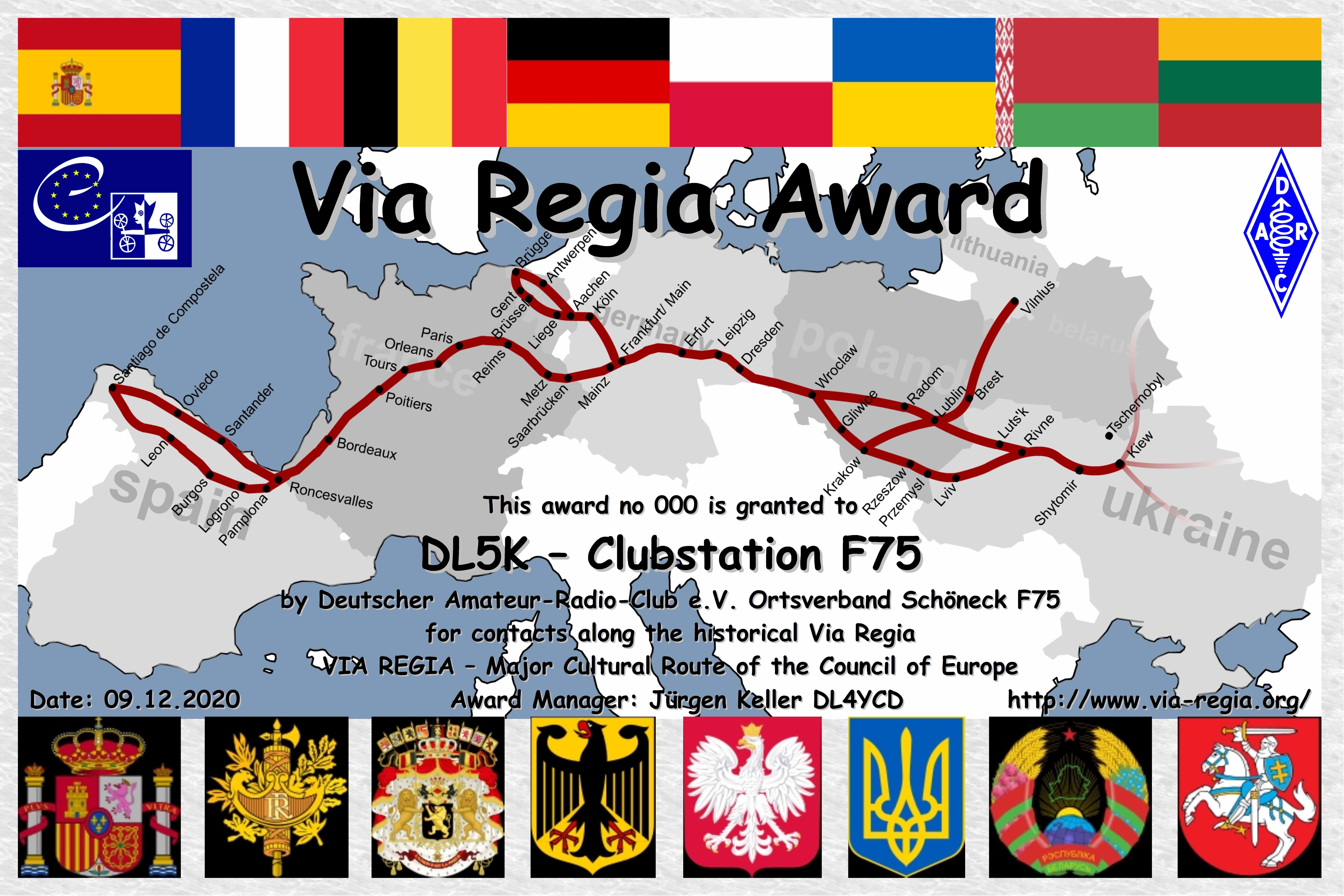 The VIA REGIA is a name of the oldest and longest land connection between East and West Europe. It has existed for more than 2,000 years and, with a length of 4,500 km, connects eight European countries. The street now exists in its modern form as the European Transport Corridor C III. An international network uses the potential of VIA REGIA as a symbol of the unification of Europe and was honored in 2006 as the "Great Cultural Route of the Council of Europe".
To promote amateur radio activities along this historic road, the German Amateur Radio Club e.V, (DARC) local chapter Schöneck (F75) awards the Via Regia diploma to all licensed radio amateurs and SWLs for proven contacts after 1 January 2006, the year of the Recognition as "Great Cultural Route of the Council of Europe".
The diploma can be applied for on shortwave or VHF. To obtain the diploma the following connections are required:
on shortwave one contact each with all eight countries:
Spain (EA)
France (F)
Belgium (ON)
Germany (DL)
Poland (SP)
Ukraine (UR)
Belarus (EU)
Lithuania (LY)
on VHF one contact with all four federal states (these states are along the "Hohe Strasse", an old trade route from Frankfurt to Leipzig as part of the Via Regia):
Hesse (DOK F)
Saxony (DOK S)
Saxony Anhalt (DOK W)
Thuringia (DOK X)
The diploma application can be sent along with a log excerpt by e-mail to viaregiaaward@googlemail.com. There is no band or mode restriction.
The diploma is free of charge and will be sent as a PDF and, on request, as a JPEG file. A printed version in the format 20x30cm is available at the price of 5 € (bank details for the transfer please ask by email) by mail.